So Cal Fish Report
Pleasant Valley Reservoir Fish Report for 1-27-2020
52nd Annual Blake Jones Trout Derby – March 14, 2020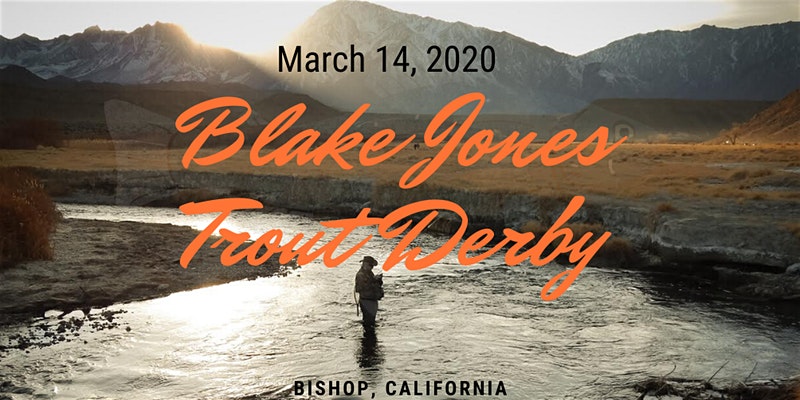 Photo Credit: Courtesy of Bishop Chamber of Commerce
by Bishop Chamber
1-27-2020
(760) 873-8405
Website

Bishop, California invites anglers of all ages to fish Pleasant Valley Reservoir and the Lower Owens River near, each vying for their share of more than $10,000 in prizes. More than 1,300 fish are weighed-in, with several lunkers over 5 pounds. It's important to note that the Bishop Chamber of Commerce purchased more than 3,000 pounds of catchable rainbows prior to the derby to make sure there are plenty of fish to go around. Prizes are awarded by a blind bogey raffle. All participants with fish matching the target weight are entered into a raffle. While the Bishop Chamber is the proud organizer of the beloved annual event, it's important to note that they rely on a solid group of volunteers to make it all happen.
BLAKE JONES TROUT DERBY RULES
• All fish entered must be caught on day of derby.
• Participants must catch and enter their own fish.
• All fish must be weighed in by 3pm at Tri-County Fairgrounds -no exceptions.
• Prizes will be awarded beginning at 3pm, winners must be present to claim prizes.
• All fish entered must be caught in waters that are open for fishing as indicated by
CADFW Regulations.
• All participants must hold a current valid California fishing license.
• All CADFW regulations apply. If you are unsure of the regulations, copies of CADFW Freshwater Fishing Regulations Booklet will be available at check-in table.
BLIND BOGEY FORMAT
• Prior to derby, a secret fisherman will catch Blind Bogey fish and record the weight.
• On day of derby, each participant may catch and register up to five(5) fish.
• Those that match the Blind Bogey weight are entered into a raffle to win prizes.
OTHER WAYS TO WIN
Prizes may be awarded for additional categories: Early Bird Registration, Farthest Traveled and Big Fish. Themed raffle baskets and special raffle prizes for those who catch and release or don't catch any at all.
MORE INFO
• The Blake Jones Trout Derby is a family-friendly event. All ages are welcome.
• The Blake Jones Trout Derby is organized by the Bishop Area Chamber of Commerce & Visitors Bureau with the help of many co-sponsors including the County of Inyo and City of Bishop. Please be sure to check out our sponsor board near the prize stage.
• Please help us keep our beautiful area clean. Don't discard fishing line, packaging, cans or other trash in the water or along the shore.
• We know some folks like to enjoy adult beverages while fishing. In order to make sure everyone gets back to their home or hotel safely, please have a designated driver.
Held every March since 1968, The Blake Jones Trout Derby is always held the weekend after the Fred Hall Sports Show in Long Beach. The site of the derby is along the Owens River, just below the Pleasant Valley Reservoir, six miles north of Bishop.
Fishing during the derby is allowed in the reservoir and along the Owens River (avoid barbless, catch & release area below PVR campground.) Loads of trout are planted just before the derby by both Desert Springs Trout Farm and the DFW (formally DFG). You can enter your catch in any number of categories including "Blind Bogey" for a chance to win your part of over $10,000 in prizes including high quality rod & reel combos, float tubes, custom lures, lodging, dinners and other goodies from local merchants and friends of the Bishop Chamber.
Put on by the Bishop Area Chamber of Commerce & Visitors Bureau, this pre-season event is a great chance to wet your line and hone your fishing skills while getting a chance to win big prizes!
Registration
Weigh-in and awards ceremonies are held at the Eastern Sierra Tri- County Fairgrounds
Fees: Adults $20/ Child $10 Day-of registration Starts at 6am Weigh Your Catch By 3pm Awesome Prizes! Win Cash, Float Tubes, Rod & Reel Combos…Loads of Fishing Gear To Be Awarded! Register Online, by Mail or at Tri-County Fairgrounds the Day of Derby
>>>PRINT THE BLAKE JONES REGISTRATION FORM (PDF)
Interesting history about the derby…..
Who was Blake Jones?
Whenever you bait your hook with Powerbait or any of the other modern cheese baits, you can thank the late Blake Jones. Jones invented cheese bait which was unique when it was introduced back in the 1950s. Before Blake Jones came along anglers had to use Velveeta cheese spread or cut small pieces from a block of cheese which easily fell off the hook when immersed in water. Blake's special cheese bait stayed on the hook even during heavy casting.
But Blake Jones was probably best known as one of the legendary anglers Bishop. Along with his wife, Peggy, he fished all over the high country and taught hundreds of people how to fish the lakes and streams of the High Sierra. Longtime local resident and business owner Don Barrett explained.
"They were the type of people who would never hesitate and help people fish. They might hand someone a jar of bait and show them how to use it. They were just that way."
The couple took their knowledge of fishing the local waters to various trade shows in Anaheim, Los Angeles and San Francisco. With his charismatic personality, Jones became an outstanding spokesman for Bishop and the Eastern High Sierra and helped turn Bishop into a vacation destination.
The Bishop Area Chamber of Commerce which had been holding an annual fishing derby since 1968 decided to honor Jones for his work and dedication by renaming the derby after him. Unfortunately, Blake Jones died on June 14, 1987 before the first derby bearing his name took place.
Marvin Jones said:
"My father was a serious fisherman and he always wanted to help someone. He was a good public relations man. He always wanted to be sure the other person always caught a fish. He went to a lot of work to fish."
< Previous Report
SoCal.FishReports.com © 2020. All Rights Reserved.
Website Hosting and Design provided by TECK.net