So Cal Fish Report
Big Bear Lake Fish Report for 8-9-2019
Big Bear Sporting Goods Report
Big Bear Lake - Big Bear Lake, CA (San Bernardino County)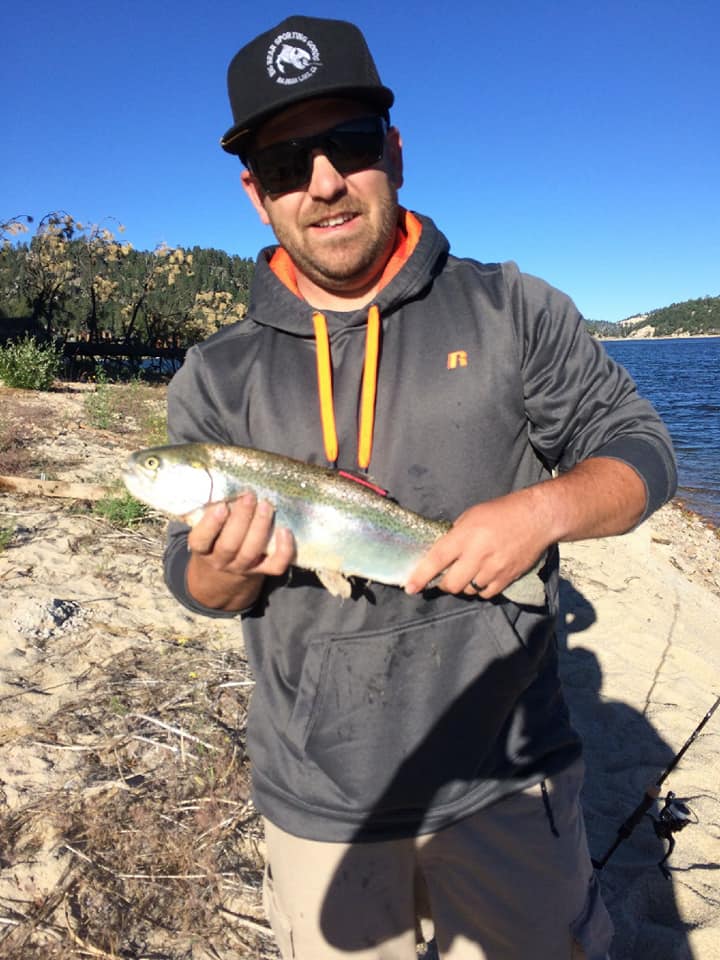 Photo Credit: Courtesy of Big Bear Sporting Goods
by Big Bear Sporting Goods
8-9-2019
Website

Having worked for almost a decade at Big Bear Sporting Goods I've had the opportunity to be on the receiving end of many anglers fishing anecdotes.
One of the more common story lines usually goes as follows:
" My family and I have been coming to Big Bear every August for 30 years...Our first trip up we caught a beautiful Rainbow Trout. So every year since we hike to the same spot on the shoreline.
We sit on the same log and fish the same hole. We even use the same bait. In fact, it's the same jar we used on that first trip 30 years ago. But we haven't caught a fish since...Is that because there are no more fish in Big Bear Lake?"...
I usually give the story-teller a smile and a little empathy before explaining that Lake water levels, Trout schooling patterns, oxygen levels and water temperatures will have a profound effect on the success or failure of their fishing trip.
Anglers need to change their Techniques to accommodate the fish because, sure as heck, the fish aren't saying "Oh look, its August and the Jones family is here. We better move on over by that log they always sit on and get us some of that 30 year old bait!"...
Fishing for trout in the heat of summer Is a challenging endeavor. First off, Trout are a cold water species and are more active during Fall and Spring because the water is colder! Trout thrive in 50 to 60 degree temps. Whereas in Summer water temps are around 68 to 70 degrees. In those temps they are just trying to Survive. Oxygen levels are also a major factor.
When visitors arrive in Big Bear from the lowlands of Southern California they often state they feel "winded" or "can't catch their breath". That's because they are now at 7000 feet and their bodies need to acclimate. Trout need the Dissolved Oxygen (D.O) levels to be at a minimum of 5.5 PPM (Parts Per Million) or they too struggle to breathe.
So when anglers come to Big Bear to fish during the Summer They need to change:
1) Time of Day that they fish.
2) The Location where they fish.
3) The Rig they fish with.
Time: Shoreline Anglers should have lines in by 6:00 a.m. and fish until 10 or 11 a.m. If that time window is missed then anglers should wait until the evening bite starts about 7p.m. when water temps start to cool down again. Because once temps start to rise the Trout will pull off the Shoreline to seek more comfortable water temperatures.
Location: Shoreline anglers should fish from Old Grays Landing west to the Sandy Beach near the Red House. The average "Cast" lands angler's baits on Carolina Rigs in depths of 14 to 22 feet in these areas...A good level in the water column for Temp and D O. that Big Bear Bows migrate to.
The Rig: If fishing in deeper depths becomes necessary to accommodate the fish's need for colder water and better D.O. levels ( The Limnological Report measures water temps and oxygen levels and the data is interpreted then disseminated by the Fishin' Guys at B.B S.G.) shoreline anglers should fish West of the buoy line, from either the North or South shore using a Slip Bobber that can be set to a depth where the fish are suspending. The depth of which an angler suspends his or her bait can be changed by sliding a "Bobber Stop" closer or farther from the Slip Bobber.
Boaters, Trolling "Dead Center" of the lake from the Buoy Line up to the SS Relief are easily able to adjust to the depth of the optimal Oxy/Therma Cline by letting out more Leadcore Line if the fish are holding in deeper depths or if fishing other trolling Circuits including "Trout Alley " (The Rock Wall to Zebra Room) and the West Launch Ramp to Old Gray letting less out and just trolling 3 to 4 colors deep.
In conclusion, fish aren't mollusks. They don't stay in one spot their entire life. They have Fins! They move around...... That means we as anglers Need to utilize a variety of techniques to meet Their needs! Because eventhough they are in "schools", they aren't being taught how to meet ours...
The "Fishin Guys " at Big Bear Sporting Goods are always available to teach any angler how to put a Slip Bobber on their rig and will always use our years of experience fishing Big Bear Lake to help make your next trip a successful one.
< Previous Report
Next Report >
< Previous Report
Next Report >
More Reports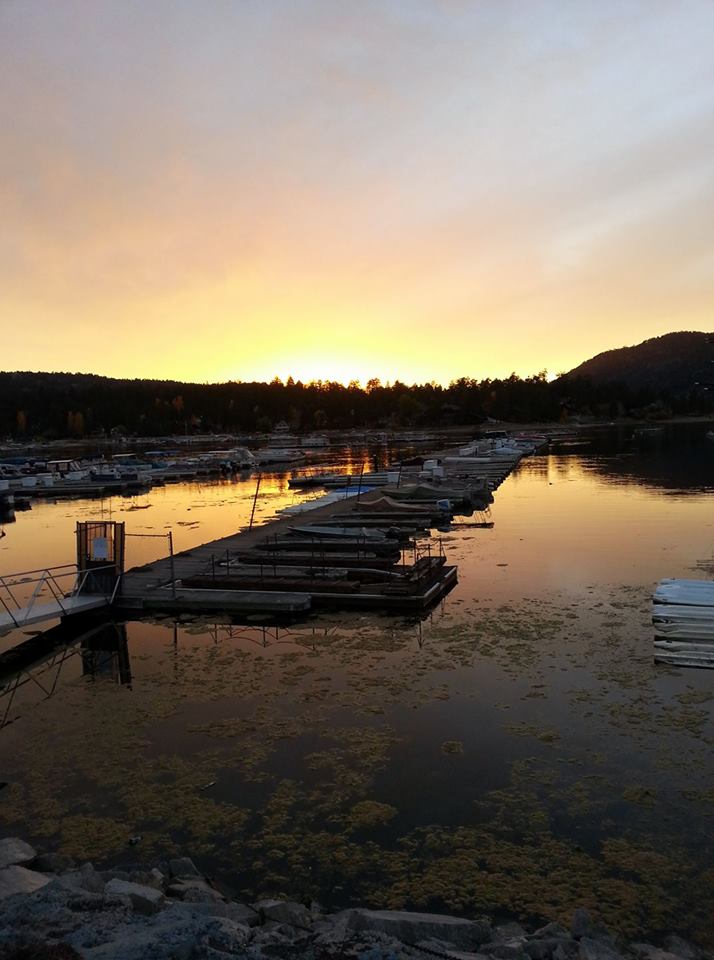 7-29-2019
Big Bear Lake is still producing good catches of Rainbow Trout despite higher Summertime temps. Time, Technique and Location are ESSENTIAL......
Read More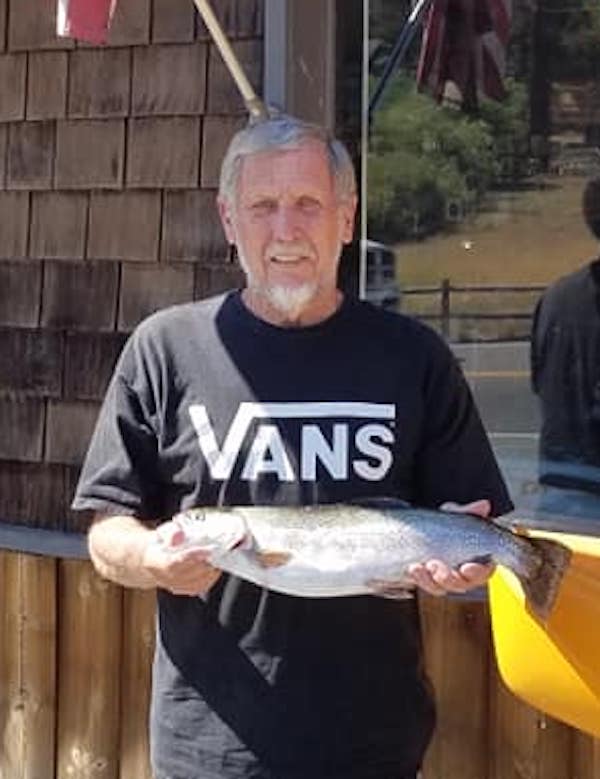 7-13-2019
What a difference a week can make ! As summer weather continues to heat up the Big Bear Valley anglers are......
Read More
SoCal.FishReports.com © 2020. All Rights Reserved.
Website Hosting and Design provided by TECK.net